Taking a cruise can be one of the best ways to get a taste for new destinations. It allows you to experience different places without the stress of travelling and finding accommodation. However with just one day in a new destination, it can be difficult to make the most of your experience and have a family friendly day in port. Especially when you are travelling with kids.
Whether you are travelling with a baby, toddlers or teens planning a shore excursion to suit everyone is possible. I have put together a list of my top tips to help your family have a great day in port!
Make it a Family Event
It is important when taking an onshore excursion to find an activity that is not only kid-friendly, but also matches your kids interests and personalities. Do you have an adventure seeking teen? Or maybe you have an animal lover? Take them zip lining or to see the native animals.
However, it is important to find balance between what the parents love and what the kids would like to do. There are plenty of activities that will appeal to everyone. This could mean relaxing on the beach while your kids snorkel and swim. If the parents love history, try a museum that includes interactive activities for kids.
Find the balance between what the kids and adults like to do!
One of the best ways to make sure your activity will suite everyone is to plan ahead of time. Find out what your kids expectations are and work together to create a family friendly day in port.
Don't Overdo It
When travelling in a new destination you may want to try and see everything. However, I suggest that you don't plan too much so that you can enjoy what you are able to see and do. Travelling with kids makes everything take longer. Children may need naps, loose interest or not have the same energy levels as you. You are better off planning one or two things, so that you can head back to the ship early if needed.
When travelling with kids, less is more!
Preparing for the Day
Being prepared for your day in port can help make it more enjoyable for your family. Remember to pack all the essentials for your family, as you would on a day outing from home. To help make your port day experience more family friendly, here are some things I recommend you do to prepare for your day in port.
Charge Electronics the Day Before: Make sure you charge all your electronics the day before your shore excursion. You will want to ensure your camera has full power so you don't miss out on capturing any special moments on your family day.
It can also be helpful to take a portable charger along for the day, as cruise ships don't often have many outlets for you to charge your electronics.
Pack Water and Snacks: If you are travelling in a foreign country, it is always a good idea to take some water and snacks along. It may be difficult for you to find something that your kids will like, so having some food and drink along for the day can help prevent hungry and cranky children.
Read More: Tips for Your First Family Cruise
Pack a Favourite Toy or Blanket: To help keep your children entertained and comforted, pack a favourite toy or blanket. This is great if you need them to take a nap while you are out for the day or to keep them entertained while you head out for lunch.
Wear Comfortable Walking Shoes: When exploring a new destination, expect to do a lot of walking. It can be difficult to know the best ways to get around, so walking can be one of the easiest ways to explore. You will need to make sure that you wear comfortable walking shoes, as it will help you get through the day.
Protect Yourself from the Weather: It is essential when you head out for a day in port that you protect yourself from the weather. This could mean taking a hat and sunscreen in a tropical destination or a warm jacket and beanie in a cooler location.
Try Something New
You are in a new destination so try something new! It might be scary trying the unknown, but doing something new can be one of the best ways to make lasting memories from your holiday.
Here are some of my favourite ways to experience a new destination:
Local Food: Head in to a local restaurant for some traditional cuisine, rather than going to places that you recognize. If you are unsure about eating an entire meal, you can always give some local street food a go.
Read More: How to Spend a Day in Phuket
Adventure Activity: Every destination you head to will have some form of adventure activity available for you to try. Some of my favourite family friendly adventure activities include snorkeling, canoeing, stand up paddle boarding, taking a surf lesson and hiking. If your family is prepared to try something a little more extreme you could try deep sea fishing, ATV driving, caving, rafting or zip lining.
Nature Wonders: You are in a new destination so be sure to soak up the natural environment. Some of the best ways to really appreciate the destination is to go on a hike, take a boat tour or relax on the beach. Simply immerse yourself in the natural wonders your destination has to offer!
Animal Attractions: Experiencing the local wildlife can be a great way to try something new on your travels! Whether you go diving with whale sharks, head to an elephant sanctuary or visit the local zoo, spending time with the native animals can really make lasting memories for your family.
Cultural Experience: You can really get to know a destination by experiencing something cultural. This could mean going to the local temple, heading to the local market, visiting an iconic landmark or taking the local transport. You can also experience culture through traditional festivals and events, but this will require you are there at the right time.
Historical Education: If you are interested in learning about the destination, try visiting the local museum. Many museums are family friendly, with interactive learning for your kids. Be sure to do your research in advance. You can also have a historical experience through walking tours and tours at historical landmarks.
Plan a Custom Tour to Suit Your Family
Not all tours on offer by your cruise will suit your family dynamic. Many of them have minimum ages, so if you are travelling with a baby this can become a problem. Occasionally, the activities on offer will not suit your family or are simply not affordable for you. If this is the case, plan a custom tour that will suit your family and help you have a great day in port!
Planning your own tour means that you can be more flexible. You don't have to wait for other tour guests to finish up their shopping and you easily add in activities to keep your children happy, such as time at a playground. It also allows you to head back to the ship early if you or your kids have had enough.
Do your research and choose one or two activities that will suit your family, and decide if you need to make any bookings in advance. Be sure to assess if you will need to hire a car to get from the port to your activity location and if the law requires your kids to have a car seat.
Read More: Tips for Cruising with a Baby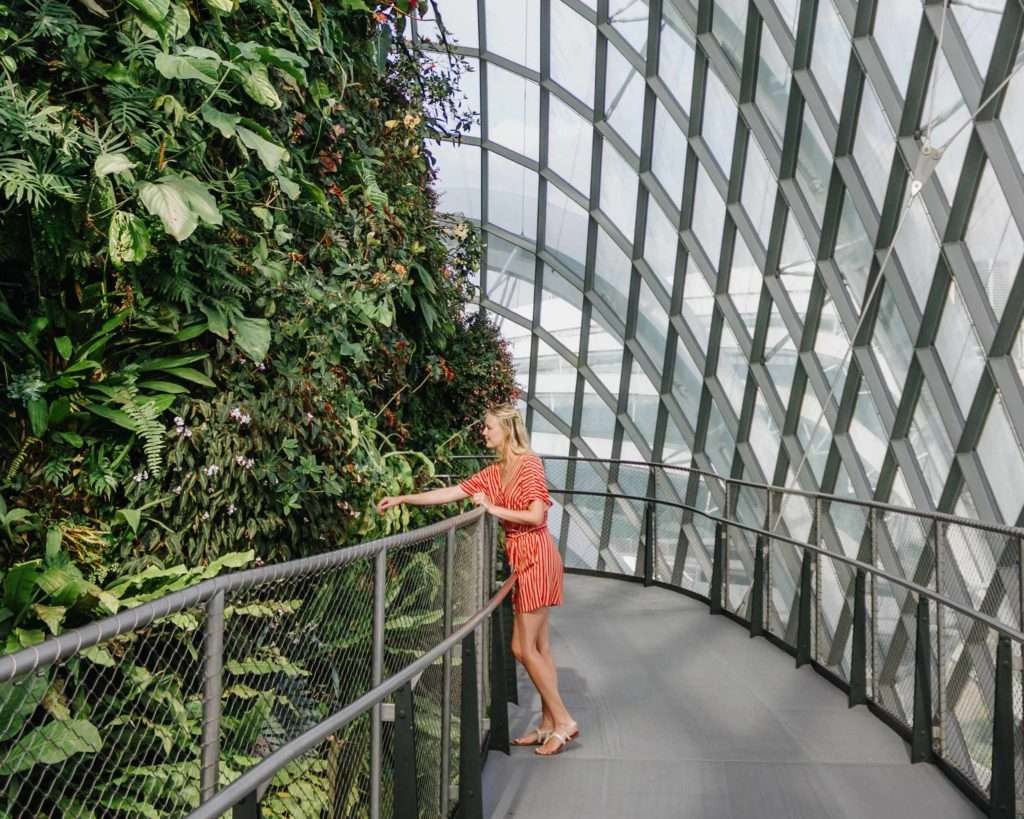 Leave Room for Spontaneity
I suggest leaving room for spontaneous activities on your family friendly day in port. This is easiest to do when you plan a custom tour. You never know what cool playgrounds or unique shops you might spot. This also leaves time for you to relax and simply soak it all in, while allowing you to leave early if needed.
Opt to Stay Onboard
Unless there is something on shore that you are very excited to see, I recommend staying on the ship during at least one port day. Opting to stay on board means that the ship is less busy, giving your more flexibility to use the ships amenities.
Stay onboard and use the ships amenities while they are less busy.
It can also be a great opportunity to give your kids some one on one time. You can swim in the pool or try out some of the ships activities, without having to compete with all the other passengers.
Return to the Ship On Time
After all your family friendly day adventures, make sure you leave enough time to return to the ship. There is nothing worse than finishing off a fun day with a stressful and rushed return to the ships port.
Overall
Overall, planning a family friendly day in port can be successful if you do your research and find activities to suit your family. If you keep things simple, your family will have a very enjoyable cruise destination experience.